On thursday night one of my best friends called me and asked if she could please pretty, pretty please borrow my laptop because hers crapped out and she has a bunch of online classes this semester and since I kind of love her, I said yes, even though she's the kind of friend that will either keep it forever or destroy it by accident and pay me in installations for 5 years.
The only problem was that I have tons of baby pictures of Anna that I hadn't printed and haven't transferred to my imac and obviously I wasn't risking it with the likes of her. I payed for the one-to-one thing when I bought my computer in February but I never had the chance to take it in (read: procrastinator) and I was suddenly faced with the dilemma of being computerless for 3 days while they did the data transfer.
Well I lived. And now I have all my photos and music on my mac!
On Saturday we had a Grace Day where we do what I wants without complaints.
First up: Barnes and Noble
We took the single stroller and I pushed a sleeping baby Iggy and Anna and Iggy wandered off and I found them in the cafe sharing an intimate moment eating cheesecake:
He also bought her this super cute Tokidoki Donutella stuffed doll in my absence :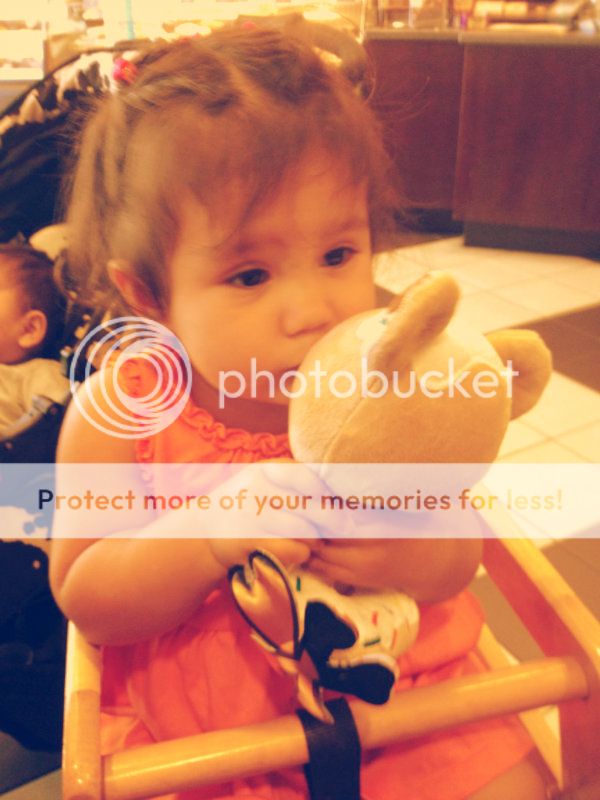 (I think she wanted it because she recognized Donutella from my Tokidoki eyeliner brush)
Here we were walking across the way to Old Navy (not much surprisingly) and Target for some essentials(coke and junk food). How tough looking is Anna in her hello kitty shades?!
AND THEN.
I finally dragged Iggy to the Little Prince Cafe.
I've been dying to go there for months but it kept getting pushed back because we did other things on the weekend.
Basically it's a restaurant with semi-daycare. It's really small and for 8.00 for two hours attendants watch your munchie run around.
We got there and we had to take off our shoes, with the choice of being barefoot (or socked), or wearing their plastic slippers. The place wasn't very big, but it had amazing things for kids there.
The center of the cafe had a bunch of infant things like rockers and vibrating chairs and jumpers circling a tree. Our table was right near there so I put baby Iggy there and he had 5 little girls squealing "baby!!!" and petting him in seconds.
They also had a pretty big ball pit, rolling slide, gym, jumper, and a wall that has a "honeycomb" thing going on for kids to crawl in. The place had tons of normal toys you can find anywhere, like fisher price kitchens and scooters, and a closet filled with princess dresses and superhero costumes and a reading nook. I liked the normalcy of it.
Now the kind of funny part:
We noticed all the books were in korean.
After a quick look around we were literally the ONLY non koreans in the place haha. I had read on yelp that the food wasn't the greatest and it was pretty overpriced so I just ordered an appetizer of nachos and Iggy was like " really? not only are we the only mexicans here you have to go and order nachos too?" lol. We stayed for the two hours and Anna was heartbroken when we left. Baby Iggy was a little peeved too because he found a nice replacement sister named Kate that was actually paying attention to him and bringing him toys.
After that we stopped by Trader Joe's to stock up on some essentials and Anna turned her frown upside down when I bought her strawberry apple sauce packs and mini baguettes. Both kids dug the mini baguettes.
And then we all collapsed and took a nap on the bed.
THE END.
*****EDIT: wanna know something funny? I literally just found out I've been writing in the "Edit HTML" section for all this time and there's a "Compose" I should be using that has the elusive spell check I was always looking for. Blogging fail haha.