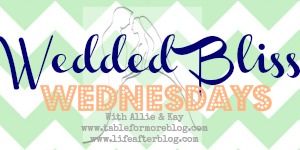 Let's get started with Marriage Advice!
If you could give one piece of advice to any married (or soon-to-be married) couple, what would it be?
Work on your relationship together and privately. I made the mistake early in our marriage of telling some female family members what bugged me about Iggy (which really wasn't a big deal, it was mostly how messy he was) and now I feel like I have to defend him all the time to them.
What is an absolute MUST for any marriage/relationship?

Constantly working on your marriage, especially if you marry young. Iggy and I have been in a relationship since we were 16, we obviously don't think the same way or have all the same hobbies or friends as we did then, and we've had to work to grow together and not apart from each other. One thing that we do that is kind of fun is read Christian marriage self-help books together. Okay I read them aloud, but we both grow from it and discuss what we want from our family. We're currently reading "The Family You've Always Wanted" by Gary Chapman.

What is the #1 no-no in a marriage?
Being untrustworthy. My friends and I discussed this one and it feels like our men lie to us about little things to avoid an argument but it upsets us more when we catch them lying about those stupid little things than the actual thing

.
What is the biggest lesson you have learned from your marriage?
Be grateful for everything the other person does for you, and not what people think they should do. Someone close to us (immediate family member) would harp on Iggy and privately to me that my ring should be bigger, my band should have diamonds, we should own our own house by now, I don't have enough nice clothes, the kids should dress better, they should each have their own room rather than sharing, etc.
The fact is we have a better marriage than that person, we don't disrespect each other and we haven't had to file for bankruptcy or have credit cards racked up with debt again like that person. So that person can suck it haha.